If you celebrate Christmas, come December, you might begin to experience what the Germans call Vorfreude: joyful anticipation. Vor roughly translates to "before" or "in front," and freude, to "pleasure" or "joy."
Even for those of us not lucky enough to speak German, we know how to sing it—after a fashion—at Christmastime, in joyful anticipation of December 25. Some of the best-known Christmas carols have their origins in German. Here are four that you may know.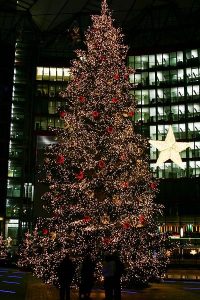 A Christmas tree on the Potsdamer Platz (Sony Center) in Berlin, Germany. (Wikimedia Commons)
"O Tannenbaum"—with a nod to an English queen's German husband
Tannenbaum means Christmas tree (fir tree would be more technically correct, but 'tis the season to be a bit generous in our interpretations). English speakers often, but not always, sing the first line of this carol as "O Christmas Tree." From there, the translated lyrics can vary almost as much as the ornaments on different families' Christmas trees.
The second line of the lyrics—at least the way that an organist in Leipzig, Germany, wrote it in 1824—might be literally translated from the German as "How loyal are your leaves." H'mm. "How steadfast are your branches" became a more lyrical interpretation, although not the only one. Aretha Franklin (among others) sang it as "How lovely are thy branches."
It's particularly fitting that this ode to a Christmas tree began in Germany. So did the custom of Christmas trees. It began as an observance of the "paradise tree"—a fir tree hung with apples, symbolizing the Garden of Eden. But by the 1700s, the notion of its being a Christmas tree had taken root.
Prince Albert, Queen Victoria's German husband, brought the idea of lavishly decorating the tree to England in the mid-19th century. We have been trimming those loyal leaves and steadfast branches ever since.
LISTEN
Hear a performance in both German and English.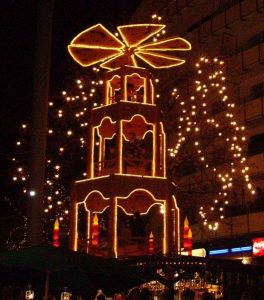 A Weihnachtspyramide, or Christmas pyramid, in Ludwigshafen, Germany. (Wikimedia Commons)
"Good Christian Men, Rejoice"—German, by way of Latin (and macaroni)
"In dulci jubilo" is the Latin name of this 14th-century German carol—"In Sweet Rejoicing." The Latin was to accommodate German Catholics; the Protestant version required only the German.
In the Catholic version, Latin and German trade off with one another, as in these first two lines:
(Latin) In dulci jubilo,
(German) nun singet und seid froh!
(In sweet rejoicing,
now sing and be joyous!)
This dual-language lyricism is known as macaronic: it combines Latin with a vernacular language, meaning the language of the general population. In this case, of course, it's German. The root of "macaronic" is what you might think—macaroni, once viewed as peasants' food. That seems rather unkind, especially given how lovely this carol is.
Even the German composer Johann Sebastian Bach (1685–1750) created an arrangement.
There is also a macaronic version that alternates Latin with English. It uses an 1834 arrangement by Robert Lucas Pearsall, an English composer living in Germany. In this version, the second line departs from the English translation of the German version:
In dulci jubilo,
Now sing with hearts aglow!
By the 1850s, the English clergyman John Mason Neale had penned the lyrics most English speakers are familiar with. It kept the "rejoicing" but lost the "sweet."
Good Christian men, rejoice
With heart, and soul, and voice…
LISTEN
In this YouTube video, the Choir of King's College, Cambridge, sings the carol in sweetly rejoicing voices.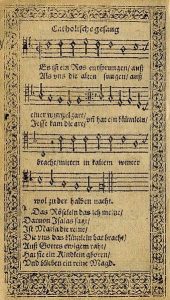 The Speyer hymnbook of 1599, showing Es ist ein Ros entsprungen. (Wikimedia Commons)
Lo, How a Rose E'er Blooming—a perennial beauty since 1599
In case you're wondering if you know this one, you probably do. Have a listen.
Es ist ein Ros entsprungen is the German title of this song, which dates back to at least 1599. The English version of the lyrics did not appear until 1894. They were the work of an American music student named Theodore Baker, who studied at the Leipzig Conservatory in Germany. He went on to write his doctoral dissertation—in German—on the music of North America's Native peoples. (Titled Über die Musik der nordamerikanischen Wilden, or On the Music of the North American Indians, the work is currently available in book form on Amazon.)
Unlike many carols, the lyrics to this one have changed little since they first appeared in that 16th-century hymnal in Cologne. And lo, how lovely that is. Who would want to fiddle with poetry like this?
Es ist ein Ros entsprungen
Aus einer Wurzel zart.
Aus uns die Alten sungen,
Von Jesse kam die Art
Und hat ein Blümlein bracht,
Mitten im kalten Winter,
Wohl zu der halben Nacht.
Lo, how a rose e'er blooming
From tender stem hath sprung!
Of Jesse's lineage coming,
As men of old have sung.
It came, a flow'ret bright,
Amid the cold of winter,
When half-spent was the night.
LISTEN (AGAIN)
To experience this Ros in German, watch this YouTube video of the King's Singers.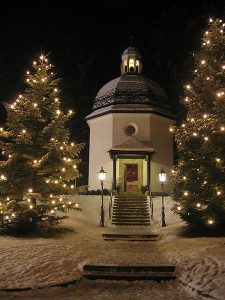 Silent Night Chapel in Oberndorf bei Salzburg, Austria. Photograph by Gakuro. (Wikimedia Commons)
Silent Night—the heavenly peace that brought a night of peace to WW I
"Silent Night" has something in common with "The Star-Spangled Banner": both began as poems in search of musical accompaniment.
In the case of "Silent Night," Father Joseph Mohr, an Austrian Catholic priest, took his verses for "Stille Nacht" to his organist friend Franz Gruber and asked him to set them to music. The two then performed the carol at the midnight Mass on Christmas Eve, 1818, in a small church near Salzburg.
The Mass itself would have been celebrated in Latin, as was the custom until the late 1960s. But "Stille Nacht" was performed in the vernacular—German.
And so from St. Nicholas Church in Austria came forth a song that would become one of the most recognized and revered Christmas carols throughout the world. UNESCO (the United Nations Educational, Scientific and Cultural Organization) has included it in its World Heritage List because of the song's global resonance among people of so many different cultures.
It is now sung in about 300 different languages, including Latin. English, of course, is one of them. "Stille Nacht" became "Silent Night" for the first time in the 1850s, in New York City.
Perhaps the most poignant aspect of "Stille Nacht" is the role it played in the brief 1914 truce between British and German soldiers during World War I. The fighting along the Western Front ceased for only a short while. But for those few fleeting hours, the two sides became friendly fellow soldiers rather than foes.
It happened late on Christmas Eve, and what drew the wary men out of their trenches on both sides was a song familiar to both.
"Stille Nacht," sang the German soldiers into the cold, clear night. "Silent Night," sang their British counterparts, in reply.
LISTEN
Hear, in its first language, the heavenly peace heard 'round the world.
—Mim Harrison
6 December 2019