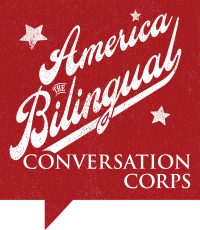 Conversation Corps Grants
Established to promote a flourishing bilingualism in America while furthering understanding and friendship.
Awarded to eligible nonprofits by the
Levenger Foundation
on behalf of the America the Bilingual Project.
Joining English-language speakers with English-language seekers

Why America Needs Conversations to Build Bilingualism
Ninety-eight percent of adults in the US speak English well. But the remaining 2 percent equates to some seven million people, and these aspiring English speakers need help learning the language. Despite an abundance of technology and the existence of classes, what's often missing is simply the opportunity to sit down with a fluent English speaker and have a conversation.
Conversations might be simply sitting on a park bench together, or they might be woven into other activities, such as walking, cooking, video gaming, playing sports, or building something together.
They might be targeted to practical workplace literacy or to thriving in a classroom. They could be between adults or among children, or span generations.
Who's Having These Conversations
Many nonprofit organizations across the United States engage in these kinds of conversations, or would like to. At America the Bilingual, we seek to know more about them and to offer some financial support through Conversation Corps grants. We may be able to play a role in helping these organizations learn from each other and to scale.
These organizations are not just in the US. Nonprofit groups all over the world are engaged in helping people learn English. Expats from the US living in these countries are frequently part of these efforts.
Both the seekers and speakers benefit. So does American bilingualism.

For the seekers, becoming conversational in English gives these English-language learners entrée to better jobs and more advantages for their children, who can also participate in programs.
For the fluent English speakers, these conversations give them an opportunity to be part of America's bilingual community—even if they themselves are not bilingual. At the same time, the conversations offer a chance for English speakers to learn some of the language of their conversation partner. They can begin with simple courtesies—hello, nice to meet you, thank you. We call these buds of bilingualism. And if native-English speakers struggle a bit getting the words right, that's okay. It will help to put their conversation partner more at ease.
For both speaker and seeker, Conversation Corps activities can provide a sense of belonging plus the satisfaction that comes with being heard. In learning another language, or learning about another language, conversation partners also come to appreciate each other's cultures.
Meet Some Recipients of Conversation Corps Grants

Is your nonprofit eligible for a Conversation Corps grant?

Examples of nonprofit organizations that qualify:
Public libraries that assist English-language learners with conversation practice
Community-based foundations that help teach and coach emerging bilinguals
Service organizations working with immigrants to improve their bilingual skills
Nonprofit schools that teach ESL to children or adults
Language exchanges of all kinds
(Unfortunately, we cannot award grants to individuals, or to organizations whose missions are primarily environmental or religious.)
Interested in applying?
In the form below, please tell us about your program and its goals. Be sure to include all your contact information, plus the range of funding you're seeking. We'll be in touch once we've had a chance to review. Also, here are six tips for how to be an effective Conversation Corps partner.
Thank you for believing in the power of bilingualism to do good