Editor's note: Be sure to listen to our podcast on saving the Cherokee language—Episode 30 of America the Bilingual, "A New Generation of Cherokee Speakers Rises."
When is an alphabet not an alphabet? When it is the syllabary of the Cherokee language. A Cherokee named Sequoyah invented it in 1821. He had seen non-Native soldiers reading from what he called "talking leaves"—words on paper—and was determined to find a way for the Cherokee to do the same.
Sequoyah (ca. 1776 – ca. 1843) was used to making tools for his work as both a blacksmith and a silversmith. Creating "talking leaves," however, was quite another matter.
But he listened—hard—to his language, and found that it lent itself not to letters of an alphabet, but to syllables: one symbol for each of 85 syllables.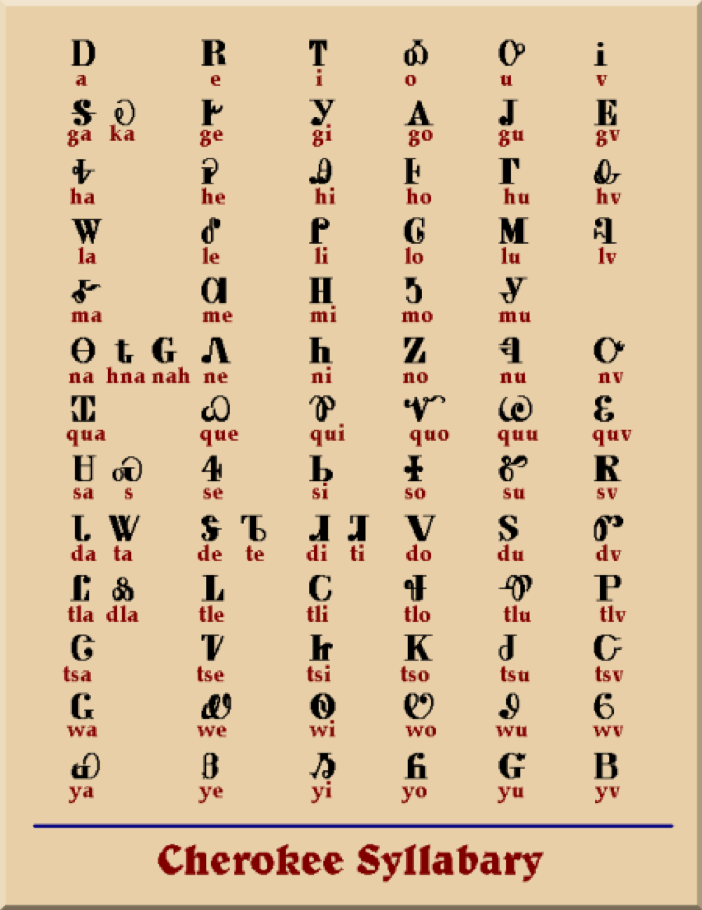 Initial skepticism among the Cherokees quickly turned to acceptance and rapid adoption of their new written language. By 1828, the Cherokees were publishing a newspaper in their language. It was the first Native American newspaper in the United States.
The Cherokees were also far outpacing the European settlers in literacy rates.
A towering contribution
Sequoyah is the only known person to single-handedly create a system of writing. He died during a journey to Mexico. The details of his death are few, but he lives on in every syllable of Cherokee writing put to paper or pixel.
Sequoyah's home in Oklahoma, which the sovereign Cherokee Nation now owns, was designated as both a National Historic Landmark in 1966 and a National Literary Landmark in 2006.
Perhaps most fitting for a man intrigued by "talking leaves," and who would make a towering contribution to the preservation of Cherokee culture, the mighty and magnificent sequoia trees in the American West are named in his honor.
                                                                                 —Mim Harrison