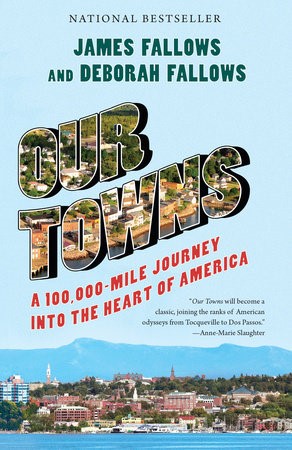 To talk of bilingualism in America is to speak about more than just language. Our not-so-secret wish at America the Bilingual is that aspiring to be bilingual will inspire an appreciation for those who have come to this country from elsewhere, and with other languages. They are following the lodestar that has long shaped America's history.
They've come to make their lives here, raise their families, help build—literally and otherwise—their communities.
Yet if you rely on just national news to know how we're all getting along with one another in our communities, you might conclude that we no longer know how to. But James and Deborah Fallows have been looking at America in another way. They have been crisscrossing the country in their two-seater, single-engine prop plane, deliberately bypassing major cities for smaller communities. They stay in these communities for several days and talk with the people who are invested in them. (Librarians and teachers rank high on the list.)
A journey that ended…and then began again
It's a journey the Fallowses began in 2012 and concluded in 2017. At least, they thought they had finished then. But the husband-and-wife team realized there are still more places to see, more America to learn about. They are now on their second journey.
Their project is called "Our Towns," which is also the name of the book about their experiences. James is a longtime correspondent for The Atlantic; Deborah holds a PhD in theoretical linguistics. They have lived for long periods, with their children, in China and Japan as well as other places abroad. James grew up in Redlands, California, a city of about 71,000 now. Deborah is from Vermilion, Ohio, population around 11,000.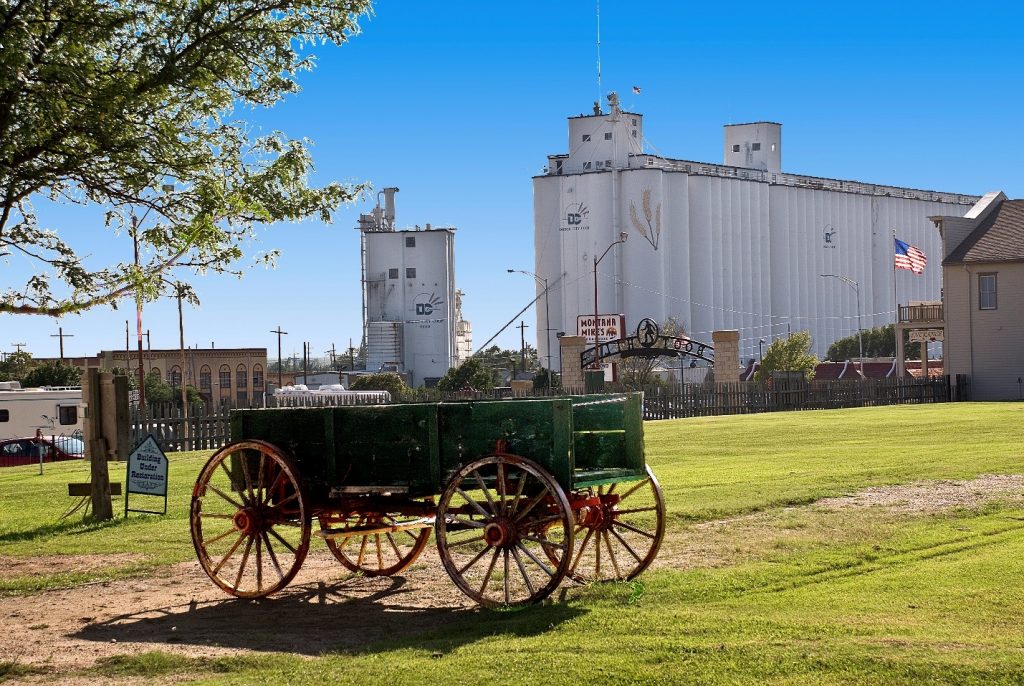 A 21st – century view of Dodge City, Kansas, with a 19th – century wagon in the foreground. (Wikimedia Commons)
Touching down in flyover country
Between the east and west coasts of the United States lies an expansive interior that, despite its size, is often dismissed as "flyover country." The Fallowses, however, flew into rather than over it, landing their small plane (James pilots) in communities that are almost never on the radar of the national news.
Dodge City, Kansas, was one of the places they visited. With a population nudging toward 30,000, it is a city in name but a town in temperament. Echoes of its storied, Gunsmoke past can be heard in what several residents told James and Deborah: "This is a beef town."
It is also a town of immigrants. More than half of Dodge City's population is Latino. And in the meatpacking plants where many of them work, Africans and Southeast Asians now join them. As one resident said, "By and large, people here—Anglo and Hispanic and otherwise—recognize that we're in this together."
One validation of this is the $85 million school bond that voters passed in 2015. Most voters at the time were Anglos; most students, Latinos.
A bilingual bridge
At the time the Fallowses visited, many of the new immigrant families were from Guatemala. They spoke their Indigenous language, but not English or Spanish. If they can acquire English in school and retain their heritage language, they will be at home in two worlds.
The English-Language Learner programs that the schools offer can help everyone in town communicate better with one another. If adult Latinos don't know English and adult Anglos don't know Spanish, the younger generation of Latinos can—and does—run linguistic interference, serving as a bilingual bridge.
One Anglo resident who runs a technology-based company that helps farmers grow more food has a young son who was then in third grade. He told the Fallowses: "He was the only one in the family who knew the second verse to 'Feliz Navidad.' And you know what, that will serve him well!"
Shared stories as connective tissue
The historian David Kennedy recently observed in an interview with The Wall Street Journal that diverse groups of people need shared stories to connect them. On a high-altitude level, at many thousands of feet above what a single-engine prop plane can reach, such a story for America might be its ideal of democracy.
But there are other kinds of shared stories, like the down-to-earth one in Dodge City: a diverse group of people working together to make their community work. What's wonderfully unexpected is that politically, you would color Dodge City red rather than blue.
As Our Towns shows, small(ish) communities across America are finding the shared stories that work for them and where they live—even if they don't always make the national news.
—Mim Harrison
2 January 2020