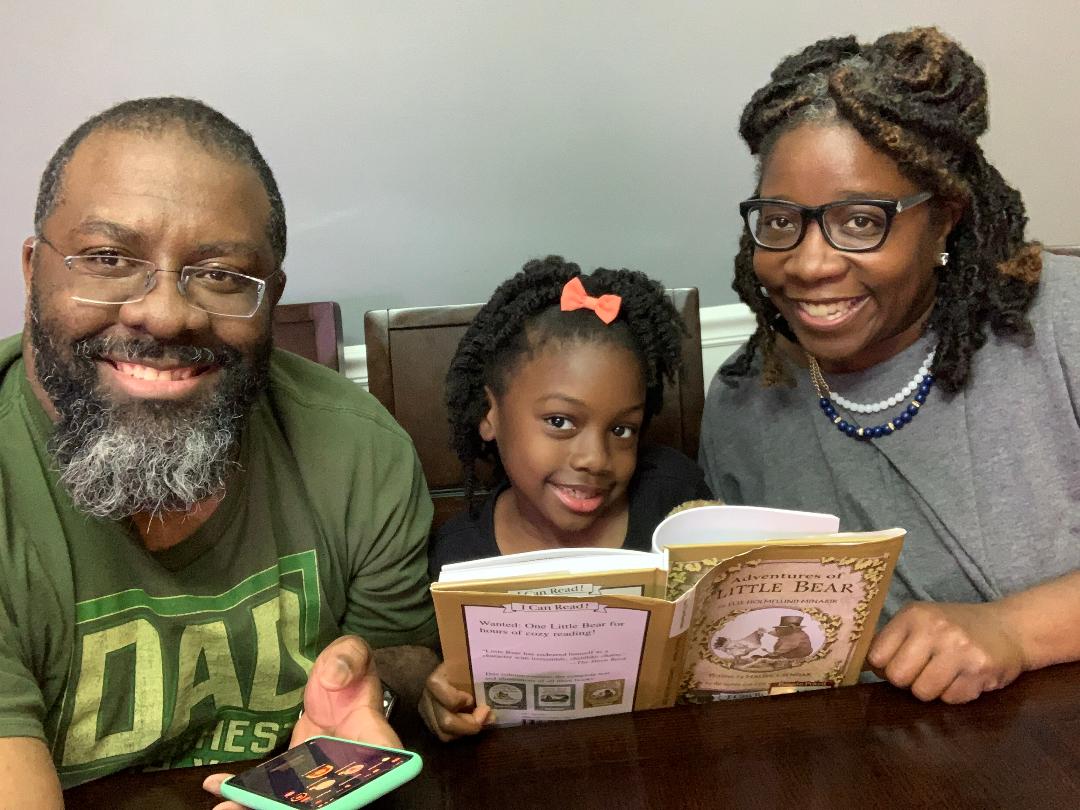 How a Dad Used Language to Up His Empathy
When Robert Shaw's daughter, Felicity, was five years old, he would occasionally reach for the Duolingo app rather than a picture book for bedtime reading.
He'd do a short beginner's lesson with Felicity and her younger brother, usually in Spanish or French. As Robert points out, "When you learn things right before you sleep, you retain them better." So why not a few words in a different language?
But it was words in the English language that Felicity often found challenging when she started reading in earnest, at age six. Both Robert and his wife, La Trease, believed they should be just as involved as the teachers were in Felicity's learning. Besides, when the world went into lockdown because of the coronavirus, "we became the teachers," Robert says.
Trying language when his patience was tried
Teaching Felicity to be comfortable in her reading became as arduous for Robert as the words on the page were for his daughter. "Anything I've taught has been to people who were already fully literate," he explains. As a result, he says ruefully, "my patience was occasionally tried."
He decided that he needed to re-learn what it was like to learn from scratch. "I was looking for a way to relate to her experience as a new learner of language," he says. Something that would be just as challenging for him as what his daughter was experiencing. And then it came to him.
Well, sort of.
Robert decided he would ramp up his learning of Spanish. But that didn't quite work. "I'd taken a little Spanish in high school," says Robert, "and I was surprised at how much stuck with me." (Thank you, dedicated language teacher!)
Then one day, he hit on the ideal solution. Before the pandemic, Felicity had learned some Chinese characters in school. "Her teacher said she really liked them," says Robert. So he decided that he would study Chinese, a language he knew nothing about. Even though his work as a full stack developer makes him fluent in languages like JavaScript, he knew that the answer to the question of how hard could it be to learn Chinese was that it could be very hard, indeed.
It was perfect.
Going back to the beginning
For Robert, everything about the Chinese language was an unknown, from the characters to the tones.
"I could look at a character I'd seen just a couple minutes earlier and still not remember it," Robert says with a laugh. "A beginner lesson taught four or five different greetings—hello, thank you—and I would consistently get them wrong."
Far from being frustrated, though, he was delighted.
"I was able to take myself back to what it was like to learn something for the very first time," he says.
Equipped with this huge dose of empathy for how hard something can be, Robert found it easy to relate to how his daughter felt challenged. He was able to be much more patient when helping her learn to read and write.
The empathy equation
It should be a truism for our times: if you want to hone and expand your considerable powers of empathy, learn another language—or try to. As Steve reports in his book, America's Bilingual Century, "Being bilingual brings a basketful of cognitive and social benefits, including a growth in empathy. We know that when adults learn another language, they almost unavoidably learn something about empathy and humility."
It's been about a year since Robert had his empathy epiphany, and Felicity now loves to read. Among her current favorites are Little Bear, by Else Holmelund Minarik, and for bedtime, a personalized storybook by Jennifer Dewing titled Goodnight Little Felicity.
As for Robert's Chinese, he still tackles it a few times a month. That's not often enough to retain much. (He's doing far better with his Spanish.) But the empathy for his daughter that he gained is something he'll always have—no matter how many tries it takes him to get those greetings just right.
-Mim Harrison
May 26, 2021
Our friends at Porch.com offer tips from Steve and other language gurus on how to learn a language at home: https://porch.com/advice/learning-languages-home-tips-advice-experts.