46. Summer Language Camps: A Short-Course on Six We Love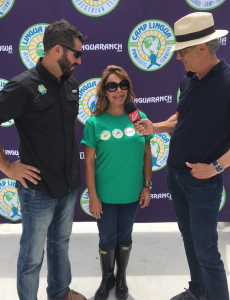 Steve (at right) interviews founder Andreina Galavis and logistics director Michael Perez of Camp Lingua in South Florida.
Language immersion there is embedded into traditional summer camp activities.
How will your child (and perhaps you, too) spend some of next summer's vacation?
Consider enrolling in a summer language immersion program. It's possible to go from zero to 60 in terms of fluency in a matter of weeks. And with year-abroad programs downsizing into weeks-abroad programs for many college students, a summer immersion camp can help ensure that they still gain that important familiarity with the language.
Excerpts from earlier episodes…
In this episode, we've pulled from prior podcasts to give you capsule reports on five of the country's leading programs: Concordia, STARTALK, Université Saint-Anne, Rassais at Dartmouth, and Middlebury.
Listen to this short-course on what each has to offer to get a sense of which one might be the best for your child, and for you.
…plus a new destination
We've also added a sixth, new program: Camp Lingua, in South Florida. It's one of several smaller, local programs available. Perhaps there's one near you—or close to a vacation spot you'll be visiting this coming summer.
Hear The Complete Episodes
If you'd like to hear the complete episodes of any of the five-star programs, you can find them here:
Credits
The America the Bilingual podcast is part of the Lead with Languages campaign of ACTFL—The American Council on the Teaching of Foreign Languages.
This episode was written by Mim Harrison, the editorial and brand director of the America the Bilingual project, and edited by Fernando Hernández, who also does the sound design and mixing. Steve Leveen is the executive producer and host. Our social media maestro is Caroline Doughty. Beckie Rankin is the podcast's associate producer. The team at Daruma Tech powers our website. Graphic arts are created by Carlos Plaza Design Studio. Meet the America the Bilingual team—including our bark-lingual mascot, Chet—here.
Support for the America the Bilingual project comes from the Levenger Foundation.
Music in this episode, "Quasi Motion" by Kevin MacLeod, was used with a Creative Commons Attribution License. Our thanks to Epidemic Sound for helping us make beautiful music together.